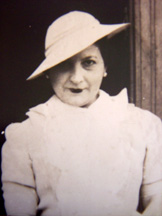 Mary Kosmetos widow of Kimon Kosmetos who was a businessman in Constantinople, was born in Constantinople in 1900 and died in Athens in 1985. With her will dated 24 April 1974 she bequeathed to the Hellenic Army (National Defence Fund) a great portion of landed and personal property.
Through the same will the Army has undertaken the maintenance of the "Kosmetio Foundation" under the title "House of the Citizens of Constantinople", located at New Iraklion, Athens, with the duty of offering shelter to the residents of Constantinople who were deported from Turkey.
For these deeds Athens Academy honoured her by awarding her a commendation on 3rd December 1986, in a festive meeting.
National Defence Fund organises a memorial for the rest of her soul, every year on 7th December, the date of her death. It is a token of honour, respect and gratitude for this benefactress of the Hellenic Army.
Some objects from Mary Kosmetos' endowment appear in the photographs below.
Exhibits located at the building of the Armed Forces Officers Club on Rigilis Str.
Exhibits at the National Defence Fund Mansion (Thalos and Pitakos Str., Plaka)
Miscellaneous